Measuring your website traffic is necessary, but how do you rank in your industry?  Better yet, how do you rank against you competitors?  What does your reach look like? How does it change the organic search results?
If these are questions that you have asked yourself, or answers you want to know…Alexa

Alexa is an online service that measures traffic for millions of sites on the Internet in a similar way to Nielsen television show ratings.  It allows you to measure differences between your business site in a competitive market.  Websites that have a Alexa rank under 100,000 ranking (like a golf score, the lower the better)   have very detailed data relating to demographic information.
Below you will find more information about Alexa.com, however if you have questions or need help on this topic, please call Chris at 720.427.3707.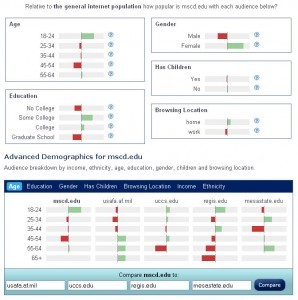 To put it in perspective here are the top U.S. sight as of 4/11/2011
Top Sites in United States
The top 500 sites in United States.
The sites in the top sites lists are ordered by their 1 month alexa traffic rank.
The 1 month rank is calculated using a combination of average daily visitors and pageviews over the past month. The site with the highest combination of visitors and pageviews is ranked #1.
Founded in April 1996, Alexa Internet grew out of a vision of intelligent Web navigation constantly improving through its users. Since then, our Alexa users have downloaded millions of Toolbars, and Alexa has created one of the largest Web crawls, and developed the infrastructure to process and serve massive amounts of data.
For users of the Alexa Toolbar and our website, the results are products that have revolutionized Web navigation and intelligence. For developers, this has led to a set of tools unprecedented in scope, allowing whole new services to be created with Alexa data. – Data taken from Alexa.com