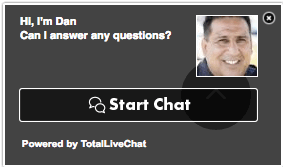 Pricing starts at $8 guaranteed cost per lead.
---
People want different avenues to communicate with business today. Sometimes keeping anonymity online is important to a customer. Our highly trained chat consultants engage your customer & allow them to open up to your business. Visitors are prompted to chat within seconds of landing on your site, allowing you a soft sell approach that is permission-based.
This technology allows you the ability to lower the bounce rate of the site and makes the most out of the other advertising you are doing to get the customers to your site.
The chat feature allows you a guaranteed lead cost. You have the opportunity to decide how much you are willing to pay (between $8-$10) for each lead. Unlike other services available, you don't pay per chat…You pay per lead!
---
Consumers said they were
more likely to come back and buy from a website that has live chat.
Websites that use chat get
more leads from the same amount of website traffic.
Website that use chat get
More conversions after adding the chat feature than before.
Website visitors are your customers waiting to talk to you. Reach out to them through live chat.
Most websites convert less than 3%-5% of their visitors to sales. Don't let yours be one of them. You spend a lot driving online prospects to your website. Don't let them leave without knowing who they are.
Turnkey Chat Service.
Chat provides a complete service unlike most other live chat providers – we use our own software platform and employ agents to service chats. This means major cost savings for you as you don't have to have your employee login or deploy anything, or hire anyone to get started.
Pay Per Lead Pricing
We charge only for actual sales leads that we send to you.
Call us today at 720-427-3707 to discuss the options of adding chat to your website.